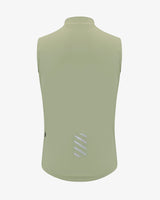 In nature, the hexagon's power provides shelter, productivity, the progression from water to ice. It's from the hexagonal form that we found the concept for our Rain Gilet and the functional pattern on the inside of this technical piece. We've developed an essential Rain Gilet that is at once durable and efficient. Ride big in the most erratic weather knowing our waterproof gilet's got your back.
Features:
Waterproof

Fully-dyed fabric

Stretchable and breathable

Double layer, geometric membrane

Windproof

Easily stowable

Two-way YKK VISLON® zip for easy access to pockets

Reflective logos
Temperature range:
Our Rain Gilet's made up of two cooperating layers. The outer layer maintains a DWR coating and the inner, hexagonal membrane is waterproof. This double layer system means versatility and efficiency. This adaptable gilet keeps you protected from wind and moisture while also maintaining flexibility in its elastic, body-hugging nature. Its two-way zipper makes temp control, breathability, and pocket access effortless. 
We've revamped our Bundles in a way that gives you more options to put together an individual kit that both fulfills your logistical and aesthetic needs.
Here's how to create your own unique Bundle and enjoy 15% OFF:
Add a TOP to your cart:

Tops include: Jerseys, Jackets, Gilets, and T-shirts

Add a BOTTOM to your cart: 

Bottoms include: All Bibs and Tights
Accessories include: Base Layers, Socks, Bidons, Toe Covers, Gloves, Caps, and Musettes

Once you've added a TOP, BOTTOM, AND ACCESSORY to your cart, the 15% Bundle discount will automatically be applied to your order. 
*Archive pieces cannot be utilized in a bundle
How long will delivery take?
Current delivery time within Europe is 1-2 business days
Current delivery time for international orders is 3-4 days
Where is my order shipped from?
All orders are dispatched from our warehouse in Madrid, Spain
How much will shipping cost?
Free Shipping on orders over €160
Current standard shipping cost within Spain (1-2 business days) is: a flat rate of €10
Current standard shipping cost for European orders (1-2 days) and outside of Europe* (3-4 days) is: a flat rate of €18  
*South America not included. Current standard shipping cost for South America is (5-7 days): a flat rate of €30
What about customs fees and local duties for orders outside the EU?
For orders from CANADA, USA, JAPAN, UAE, MALAYSIA, SINGAPORE, SWITZERLAND, & SOUTH KOREA all of the taxes and local duties are covered. For countries not listed above, we are not responsible for local duties and taxes that incur.
Please note:
All orders are dispatched out of Madrid, Spain.
We are not responsible for your local duties or taxes. As NDLSS is a Spanish based company, you may be subject to transactional fees. Please contact your bank for more detailed information.
Customers within the European Union will not be charged any additional duties upon receiving your order. International orders (outside of the EU) will have local duties or taxes. When in doubt check with your local customs office for current rates.

Please be informed that if a client refuses to accept a package due to local import fees or taxes, the package is automatically  destroyed by the carrier. When this occurs, we reserve the right to

 refuse the order cancellation and refund. 
NDLSS will dispatch orders on business days. Business days are Monday to Friday. Please keep this in mind when placing orders on Saturday or Sunday.