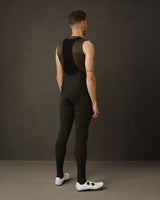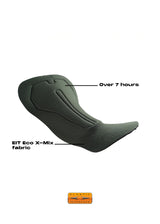 THERMAL Tights - Forest Green
A crucial element in your quest to combat winter: our Thermal Tights. Designed to take on any conditions winter might present us. Their design focuses on comfort, warmth, and performance. Soft on the inside with a weather-fighting exterior, these tights keep you happily pedaling even on the most frigid winter days. 
Features:
Fully dyed Italian fleece-backed fabric

Anatomical fit for on bike-position

Strategic seam placement to eliminate discomfort

Simple leg hem finishing for a clean aesthetic
Temperature range:
Our Thermal Tights provide the warmth necessary to savor a km-packed adventure. With our top-of-the-line chamois you're ready to take on your next tough ride. What's missing? Perhaps a solid, Long Sleeve Jersey and a water resistant Rain Jacket.
About Our Pad 
The latest Elastic Interface® Pad is designed for all-terrain, long-distance rides. Anatomically perfected for men and constructed with a wide variety of strategically placed stitching, including both flatlock and overlock, to maintain an even surface and increase durability. 
Key Pad Features
Made for 7+ hour days

Made with ECO X-MIX premium, eco-friendly fabric

Engineered with exceptional moisture control properties

Smart, central channel to enhance blood flow and reduce pressure
Wash & Care Instructions:
Wash at 30°C 
Use mild detergent 
Drip dry in shade 
Do not iron
Do not bleach
We've revamped our Bundles in a way that gives you more options to put together an individual kit that both fulfills your logistical and aesthetic needs.
Here's how to create your own unique Bundle and enjoy 15% OFF:
Add a TOP to your cart:

Tops include: Jerseys, Jackets, Gilets, and T-shirts

Add a BOTTOM to your cart: 

Bottoms include: All Bibs and Tights
Accessories include: Base Layers, Socks, Bidons, Toe Covers, Gloves, Caps, and Musettes

Once you've added a TOP, BOTTOM, AND ACCESSORY to your cart, the 15% Bundle discount will automatically be applied to your order. 
*Archive pieces cannot be utilized in a bundle
How long will delivery take?
Current delivery time within Europe is 1-2 business days
Current delivery time for international orders is 3-4 days
Where is my order shipped from?
All orders are dispatched from our warehouse in Madrid, Spain
How much will shipping cost?
Free Shipping on orders over €160
Current standard shipping cost within Spain (1-2 business days) is: a flat rate of €10
Current standard shipping cost for European orders (1-2 days) and outside of Europe* (3-4 days) is: a flat rate of €18  
*South America not included. Current standard shipping cost for South America is (5-7 days): a flat rate of €30
What about customs fees and local duties for orders outside the EU?
For orders from CANADA, USA, JAPAN, UAE, MALAYSIA, SINGAPORE, SWITZERLAND, & SOUTH KOREA all of the taxes and local duties are covered. For countries not listed above, we are not responsible for local duties and taxes that incur.
Please note:
All orders are dispatched out of Madrid, Spain.
We are not responsible for your local duties or taxes. As NDLSS is a Spanish based company, you may be subject to transactional fees. Please contact your bank for more detailed information.
Customers within the European Union will not be charged any additional duties upon receiving your order. International orders (outside of the EU) will have local duties or taxes. When in doubt check with your local customs office for current rates.

Please be informed that if a client refuses to accept a package due to local import fees or taxes, the package is automatically  destroyed by the carrier. When this occurs, we reserve the right to

 refuse the order cancellation and refund. 
NDLSS will dispatch orders on business days. Business days are Monday to Friday. Please keep this in mind when placing orders on Saturday or Sunday.